The permanent exhibition room exhibits around 90 pieces of uranium glasswares around the world from 19th century, including a milk pitcher made in 1840 which is the world's oldest known uranium glassware with clear evidence of its production period, a flower vase made by Emile Galle, and goblets of the Russian emperor introduced in the television program, etc. Some exhibits are presented with a button switching from normal lighting to ultraviolet lighting, making it possible to enjoy the mysterious glow of the fluorescent light when exposed to ultraviolet light, along with the beauty of their shapes.
Emile Galle's uranium glasswork "Butterfly Flower Vase"; a milk pitcher which is the world's oldest uranium glassware with clear evidence of its production period; tabletop ornament "Epergne" of the Sturbridge region, England; "Goblets of Russia Emperor" introduced in the television program; headlights of steam locomotives using uranium glass for reflectors (exhibited in the elevator hall on the second floor), etc.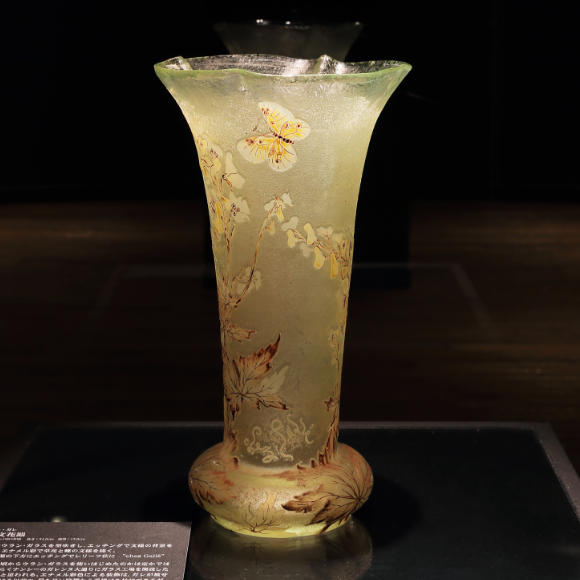 Butterfly Flower Vase by Emile Galle
Emile Galle is a French glass artist and pottery/furniture designer who is considered one of the representative forces in the Art Nouveau movement, Galle's works focus on creating works with multiple layer of colored glasses to illustrate animals, plants or insects with various techniques. With remained works acclaimed worldwide for their artistry, Gelle is among the most popular designers whose works fascinate a lot of fans in Japan.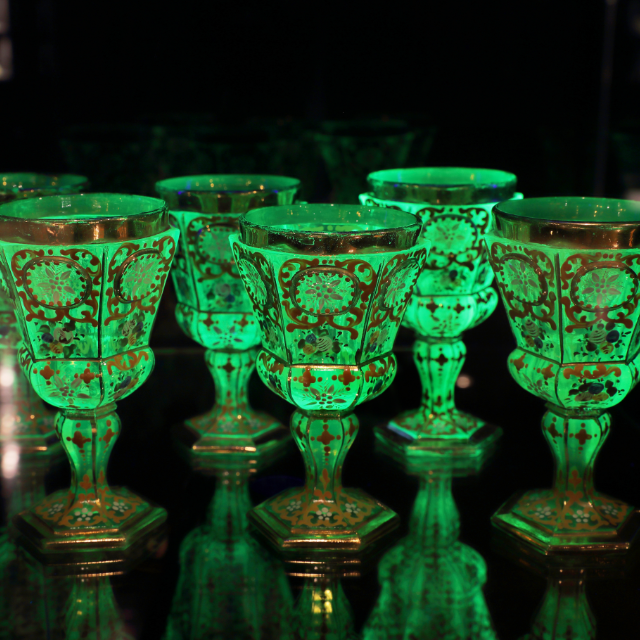 Goblets of Russia Emperor
Fedorovsky Inc., Marzovskoye Inc.
Made in Russia in the 1880s, a plant pattern is painted with enamel on the entire uranium glass surface. There are national emblems of the Russian empire, "the double-headed eagle with a crown," carved at the bottom of two goblets among them, so they are considered to be used by Russian emperor or imperial court everyday or during dinner parties at numerous detached palaces.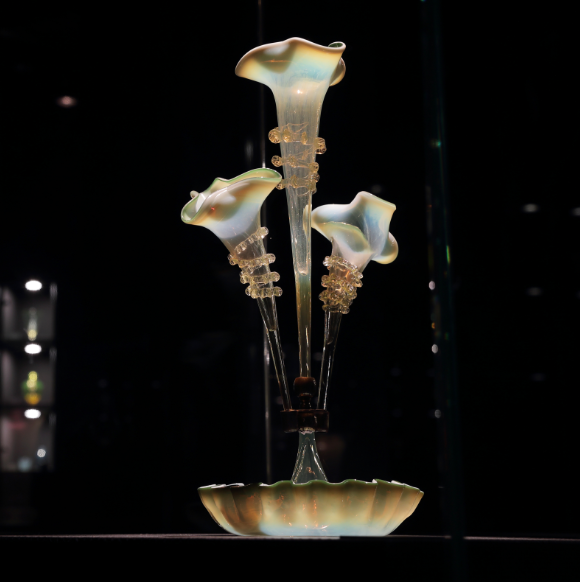 Epergnes
Epergne is a kind of tabletop ornament intended to decorate the table, but also used as containers of flowers, fruits and sweets. Our museum houses and displays plant-like uranium glass epergnes of Art Nouveau style.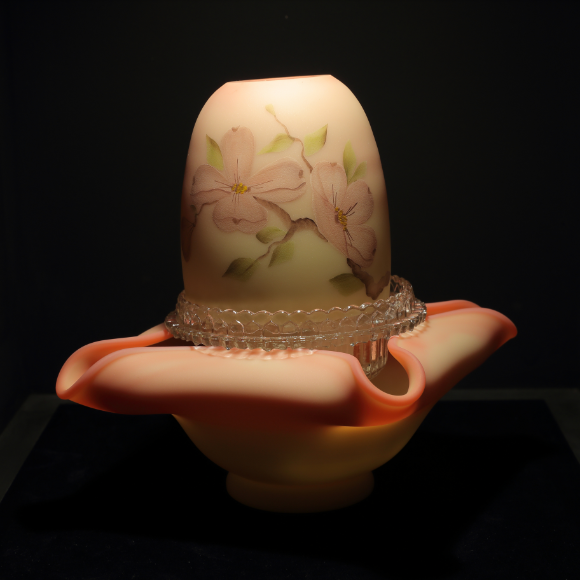 Fairy Lamps
Works using "Barmies Glass" developed in the late 19th century in the United States, with a wide range of colors from lemon yellow to rose pink. Candles or something of the sort can be put inside to give lighting.