Openning Hours
9:30-17:00(Entrance until 16:30)
Closing Days
Close on Tuesdays (except holidays) and first/last day in a year
Admission Fee
Admission Fee includes Permanent Exhibition Room, Special Exhibition Room and Glass Workshop (from tour space on the 2nd floor).
Admission Fee,
Group discount price in ()
Art Shop only
Adult or University Students
500 yen
(400 yen)
Free
High School Students
400 yen
(300 yen)
Elementary
School Students
or
Junior School Students
300 yen
(200 yen)
Preschool
Free
* Tax is included.
* Art Shop tour Is free.
* Group discount is for groups of over 20 people.
* Half-fare for physical disabled holding physical disability certificate.
Glassmaking Experience
The Glass Workshop holds glassmaking experiencing programs including "Glassblowing", "Leutor" and "Sandblast" on every Tuesday, Sunday and holidays. Please challenge making your own glassware unique in the world. The glassmaking experiencing programs are held at a reserved basis. Please confirm your presence via telephone or other ways in advance. (Resevation on the same day is possible if there is vacancy.)
Glassblowing Experience

3,300 yen (tax included) / person (Afterward delivery would generate extra cost)

Leutor Experience

1,100 yen (tax included) / person

Sandblast Experience

1,100 yen (tax included) / person
Barrier Free Access
Half-fare for disabled holding physical disability certificate, please request at information desk.
Easy Access and Loan Services
* Parking lot for the physical disabled (2 parking spaces)
* Multi-purpose bathroom (with diaper changing table)
* One wheelchair available to rent
About Wheelchair Users
* Special drop-off point for wheelchairs is at the entrance;
* You can borrow a wheelchair at the information desk on the ground floor for free;
* Elevators are wheelchair-friendly and the whole museum is reachable by wheelchair.
* Slope installed at the entrance;
* Multi-puropose restrooms are available.
About Photographing, Anime filming and SNS
Photographing in the museum is overall allowed. As we are still a small little-known museum, visitors are welcomed to post photograph on SNS or other places to let more people know us. (Depending on the Special Exhibitions, it might be forbidden to take pictures in the Special Exhibition Room on the second floor.)
Permanent Exhibitions Room
The permanent exhibition room exhibits around 90 pieces of uranium glasswares around the world from 19th century, including a milk pitcher made in 1840 which is the world's oldest known uranium glassware with clear evidence of its production period, a flower vase made by Emile Galle, and goblets of the Russian emperor introduced in the television program, etc. Some exhibits are presented with a button switching from normal lighting to ultraviolet lighting, making it possible to enjoy the mysterious glow of the fluorescent light when exposed to ultraviolet light, along with the beauty of their shapes.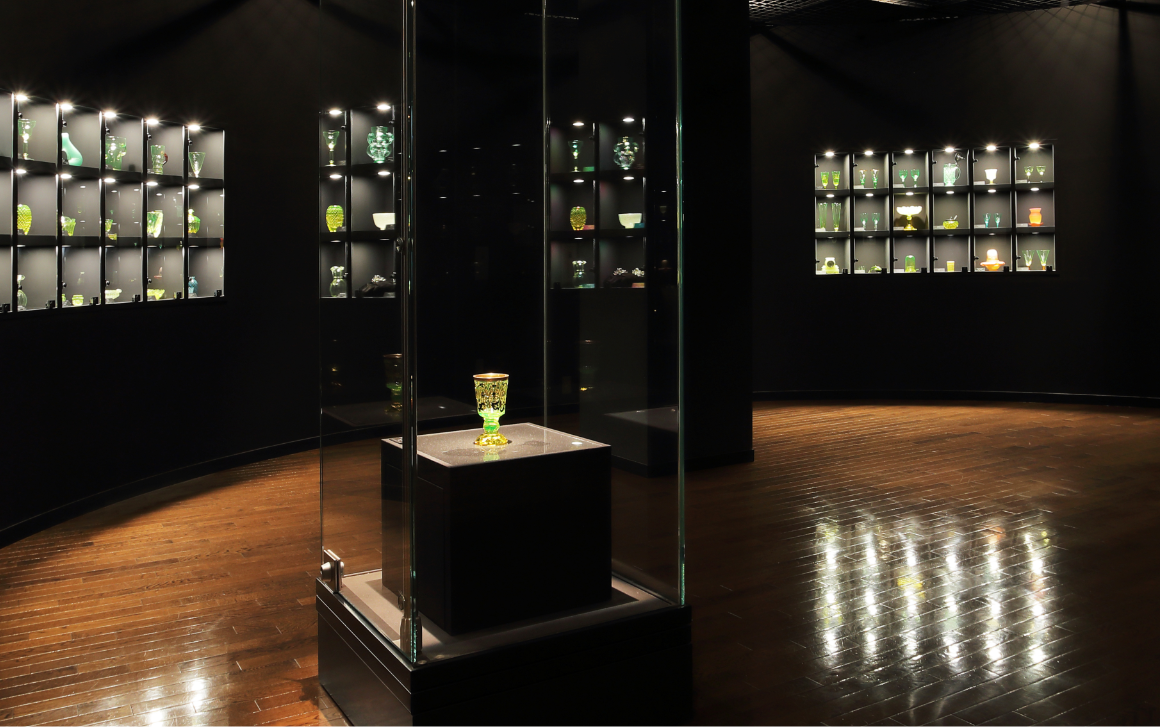 Special Exhibition Room
Special Exhibition Room on the 2nd floor holds glass related exhibitions three to four times a year. During the fall-winter exhibition period every year, our museum holds collection exhibitions to exhibit works created by the glass artist at Fairywood Glass on a regular basis.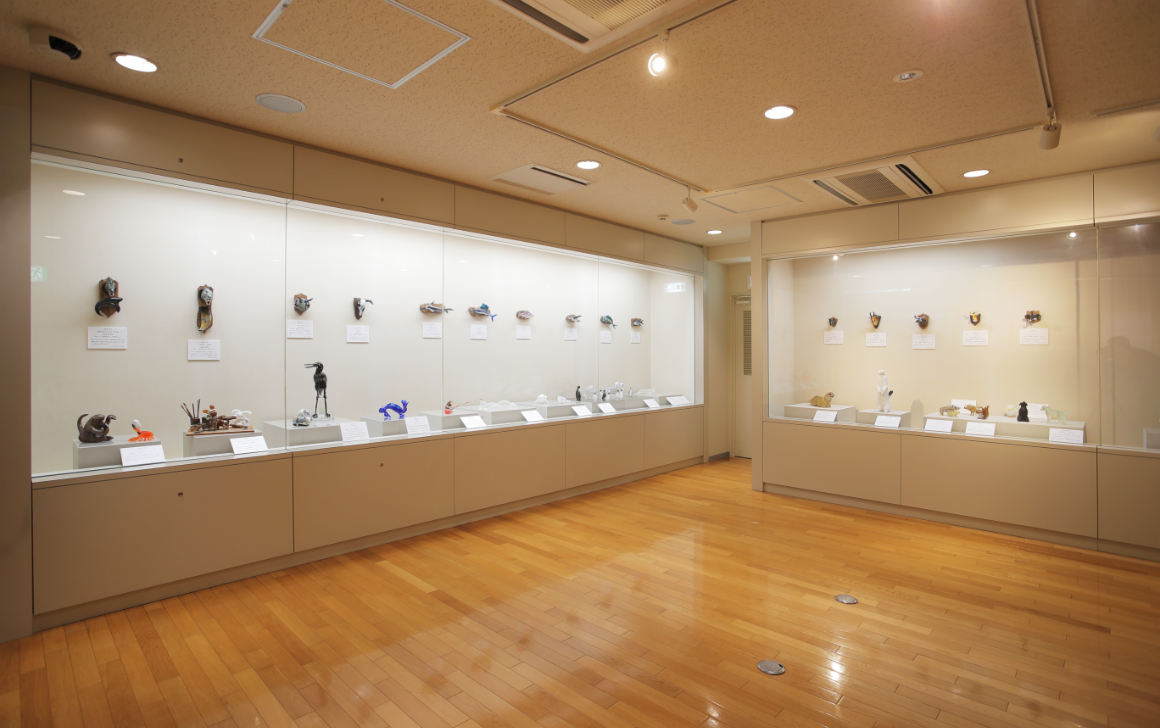 Art Shop (1F)
The Art Shop on the ground floor displays and sells glasswares(includs Fairywood grasses) and flower vases made at the glass workshop, or transparent glasswares and accessories. All items are hand-made, so every single item is slightly different. Feel free to touch them before you choose the ones that you feel comfortable with.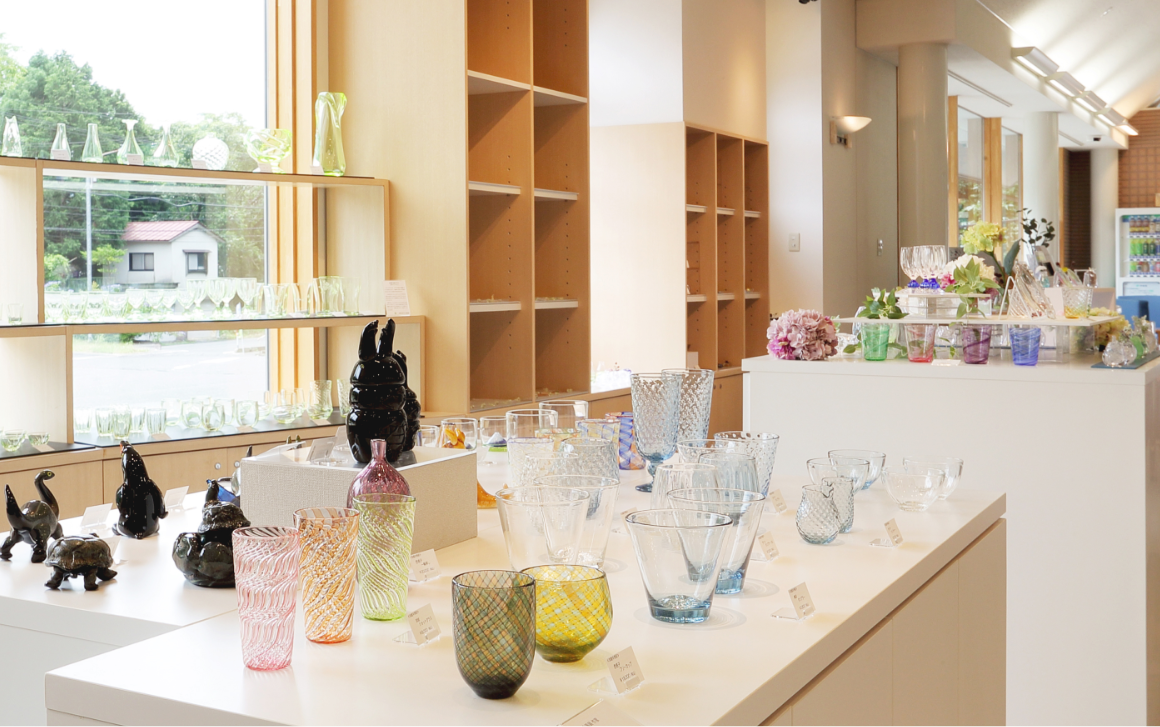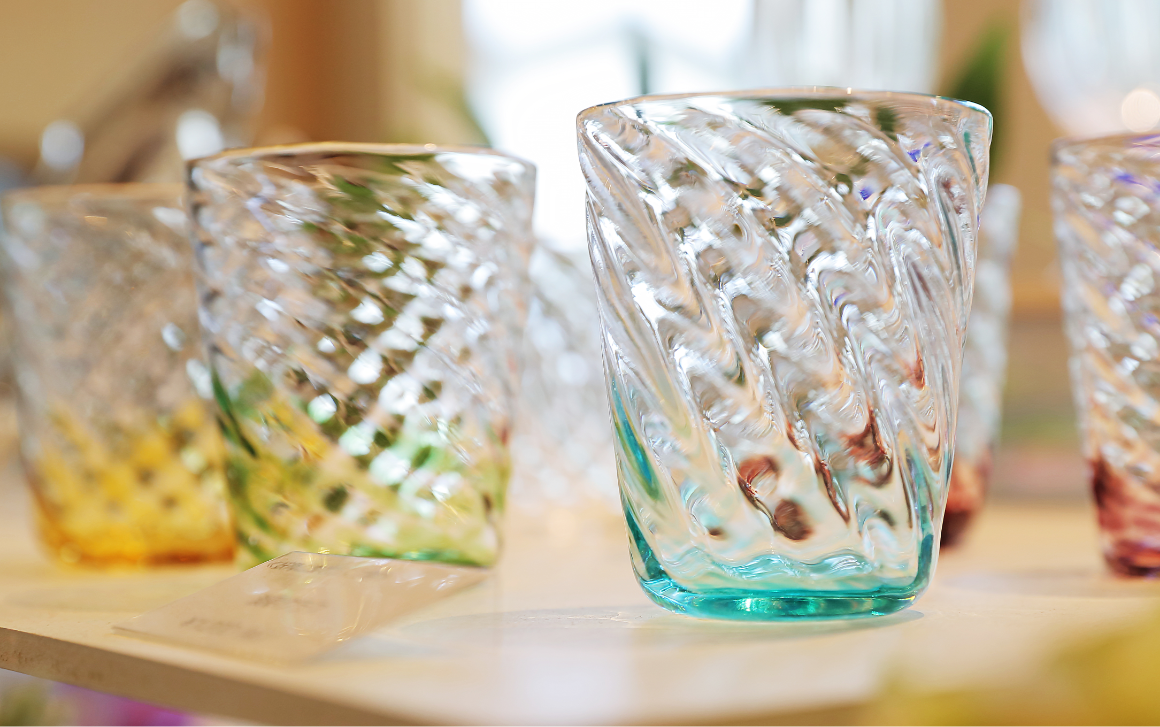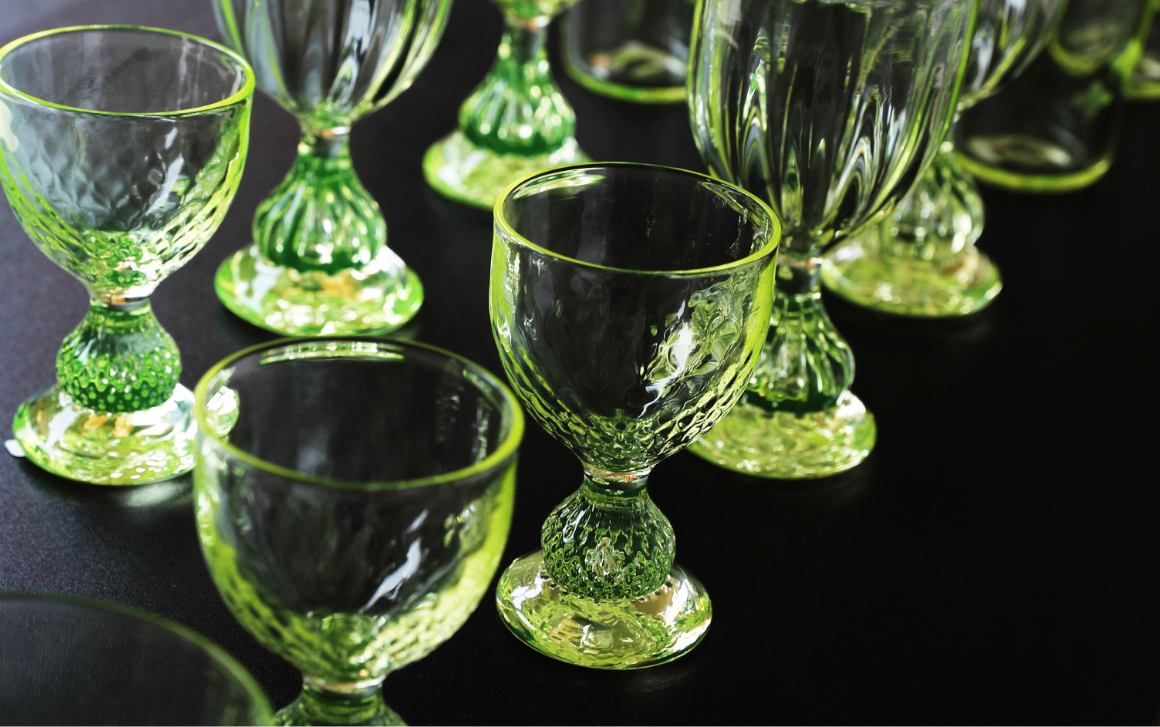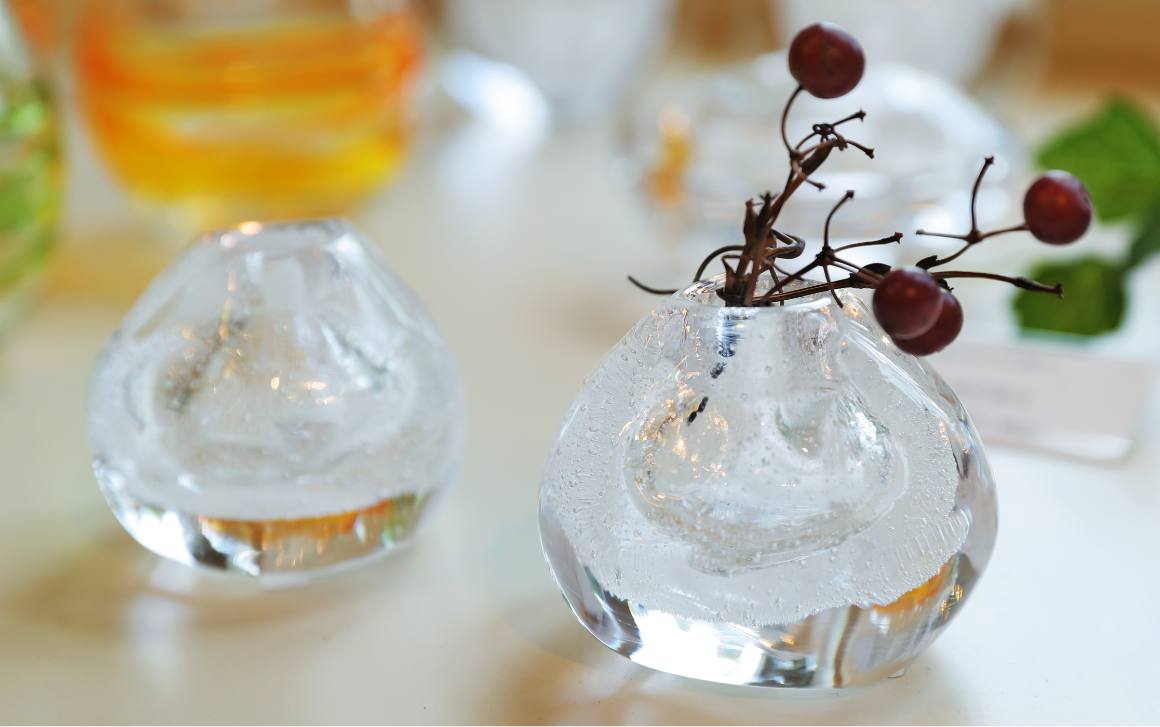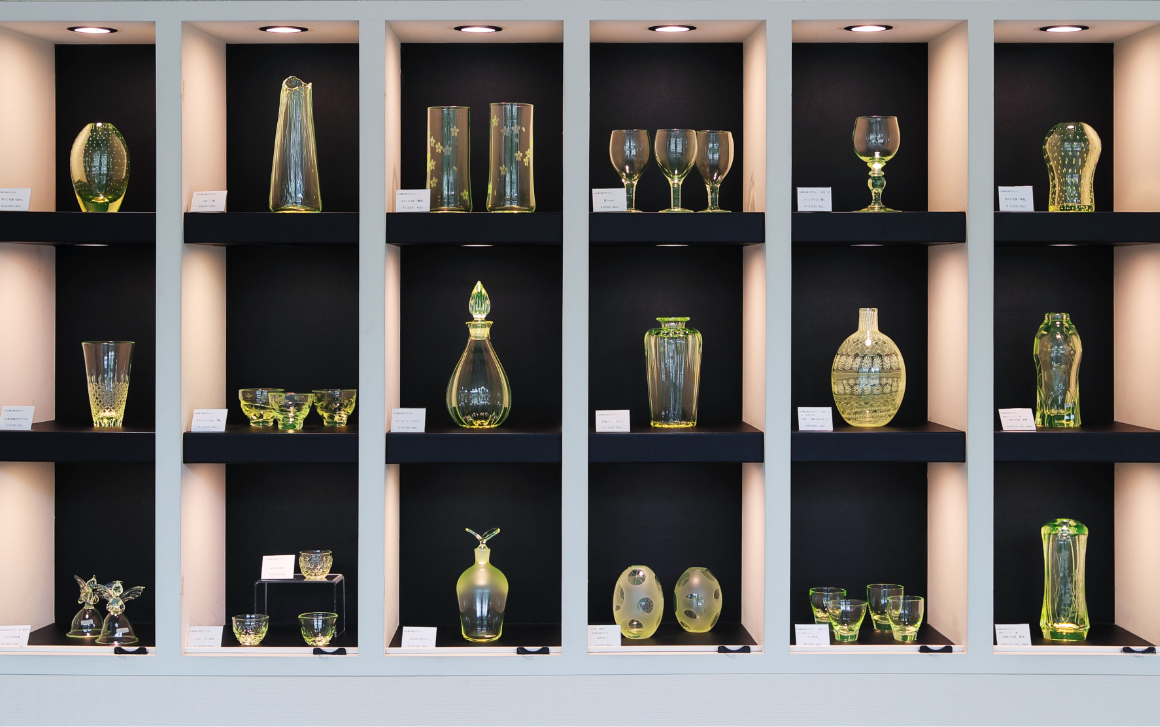 Glass Workshop (1F)
Starting from "Fairywood Glass", the glass workshop produces various glasswares. You can also experience glassmaking here (held every Saturday, Sunday, and public holidays, priority for customers with reservations).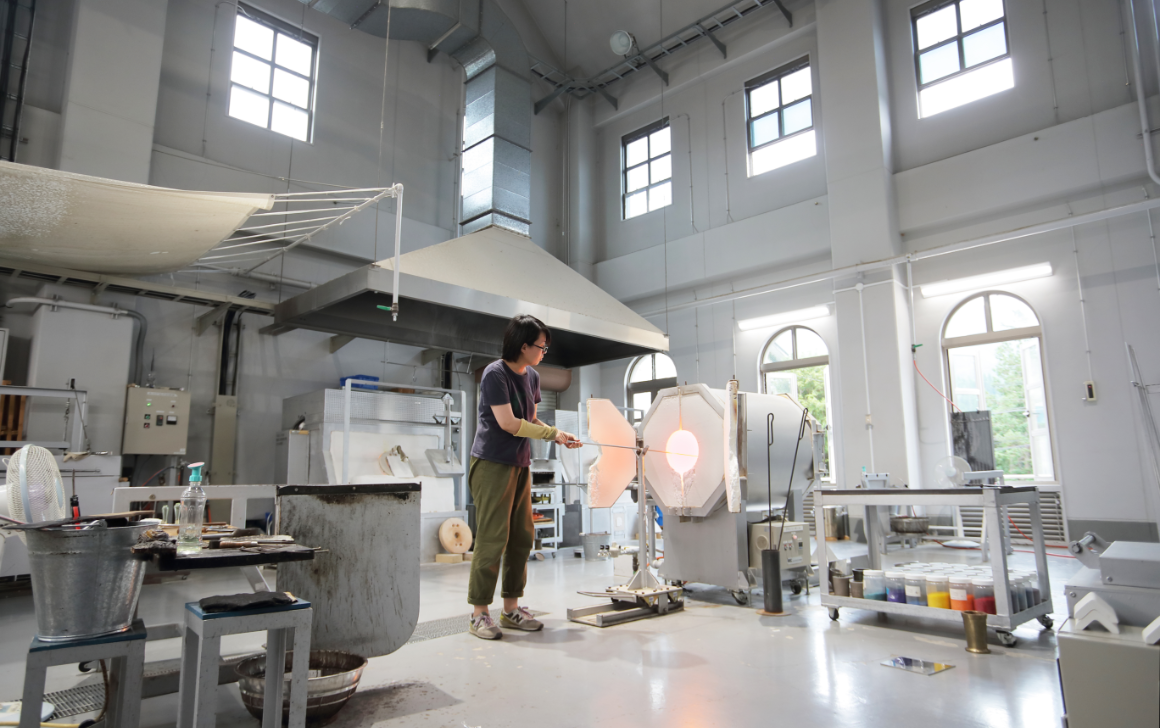 Glass Workshop Tour Space (2F)
This is a space where you can see the production scenes of the glass workshop through the window. (Please be aware in advance that there're dates and time windows when there's no production). Videos of the glassmaking process and tapestries describing the use of the tools are also available.